Whenever we hear about the word 'backwaters'… the only state of India which come into the mind is Kerala…. undoubtedly Kerala is home to the most beautiful backwaters on the planet. Last month (Dec2010) I visited the place called Signadooru… a small village in the backwaters of the river Sharavati (Linganamakki reservoir).
The trip was an unplanned. My relatives went to attend a marriage function at Sagar, a beautiful place in the Shimog district. Since the next two days are weekend they planned to explore near by places. So I got the invitation to join the group. I managed to get a bus from Mangalore to Shimog on Firday night.
The Bus Service to Sagar
Only two buses are there from Mangalor. A private company Gajanana Transport will run daily two buses to Sagar. The bus timings are as follows
| | |
| --- | --- |
| Bus Name | Timings |
| Durgamba Travels | 21:30 hrs |
| Gajanana Travells | 22:30 hrs |
Buses will reach Sagar at around 3:30 hrs and 4:30hrs respectively. The capital city Bangalore is well connected with Sagar many Government (KSRTC) and Private buses have their daily trips. From Bangalore the Sagar is approximately 350 kms
The journey…
We started from Sagar at around 07:00 hrs. As we had our private vehicle, we choose the Avinahalli and Ambaragodlu route to reach Holebagilu. The are belongs to Sharavati Reserve Forest. Although it is a reserved forest one can see human inhabitation on the way to Holebagilu.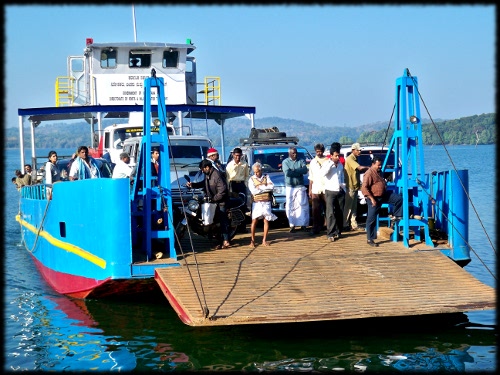 This is the place where the backwater starts. The is called as backwater because of a huge dam constructed across the river Sharavati at Linganamakki. Karnataka's half of the electricity demand is satisfied by this dam. The stored water of the dam penetrates into the wast areas of land. According to a local people more than 100 big villages, submerged during the construction of this reservoir.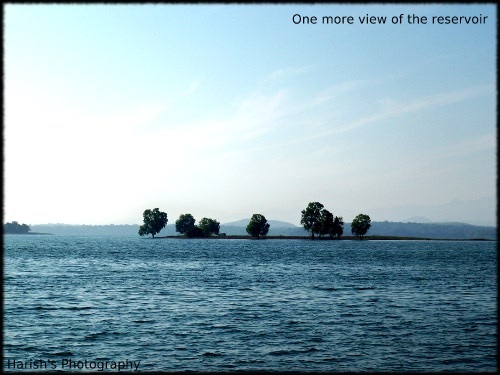 I have read and heard the pain that were undergone by the people in this part of the world during the construction of this dam. Before the reservoir this was the route which connects Sagar and Nittur (NINASAM, a cultural organization dedicated to the growth of drama, films and publishing). The best part was the journey in the Barge. Only during the barge journey one can feel the vastness of the reservoir.
Devi Chaudamma Temple at Sigandur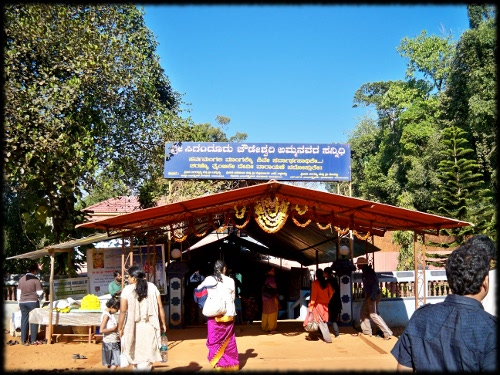 Singandur, the place is located in the other side of the reservoir. Devi Chudeshwari Temple is located in this place. The temple is dedicated to Devi Chaudamma. Its been believed that on wearing of the brass tag which is available in this temple will protect house and the belongings from the thief. During Sankrathi (January) Jatra (festival) is celebrated in this temple.